Mobile Dispensing Clinic
First DEA Approved Mobile Dispensing Unit in the country. A perfect extension to your OTP and NTP programs.
0
Average Days: Deposit to Delivery
0

%

Reduced Carbon Footprint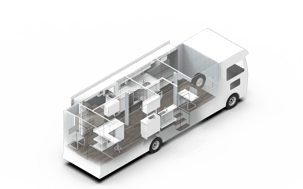 DEA Approved
DEA Approved Safe
No Vehicle Access Patient Rear Entry
Dosing Lab
Consulting Area
Exam Area




Watch it in Action!
Check out this Behavioral Health Vehicle in Action.